I have a love for witchy/wiccan things so when [Krescendo] (bestest tiniest beans bless their souls) decided that they would be making a witch-vibe bedroom and announced it on their Twitter BOY I LOST IT!
I was a patient bean, you know. Cuz they teased me WEEKS in advance and I was like an ddict jonesing for my bedroom fix, because everything about this set was just perfect!
While I was waiting for that to come out, [QE] Designs accepted me as a blogger and I was like YEAAAHHHH I love this thank you so much! T-T Cuz I was really happy they deemed me worthy of their brand, they had up in their blogger website 2 cute things, one was a memory suitcase and the other.... witchy rugs! OMG I knew I had to get these things and now after much wait and impatience on my side (and a lot of RL happening that prevented me from posting in time) we have MY BEDROOM! More like Berrie's bedroom over at Palmwood City in Second Life dot com (pls sponsor kthxbai).
And so, my first ever decor blogpost has come to be! And in true fashion we gonna break it down with items and stuff so you know exactly what I put in here!

To start, sponsored [QE] Designs with two items available for purchase in their mainstore currently we have the [QE Home] Rug Trio -Star Maps a cute bundle of three rugs with starmap designs on top with purple-gradient colors and gold accents.

As a second item also from [QE] we have [QE Home] Memory Case - Summer Camp a quaint little suitcase with several pictures and postcards that is reminescent of the ones some of us have at home with things from our travels, pictures and postcards just thrown in there. I quite liked it!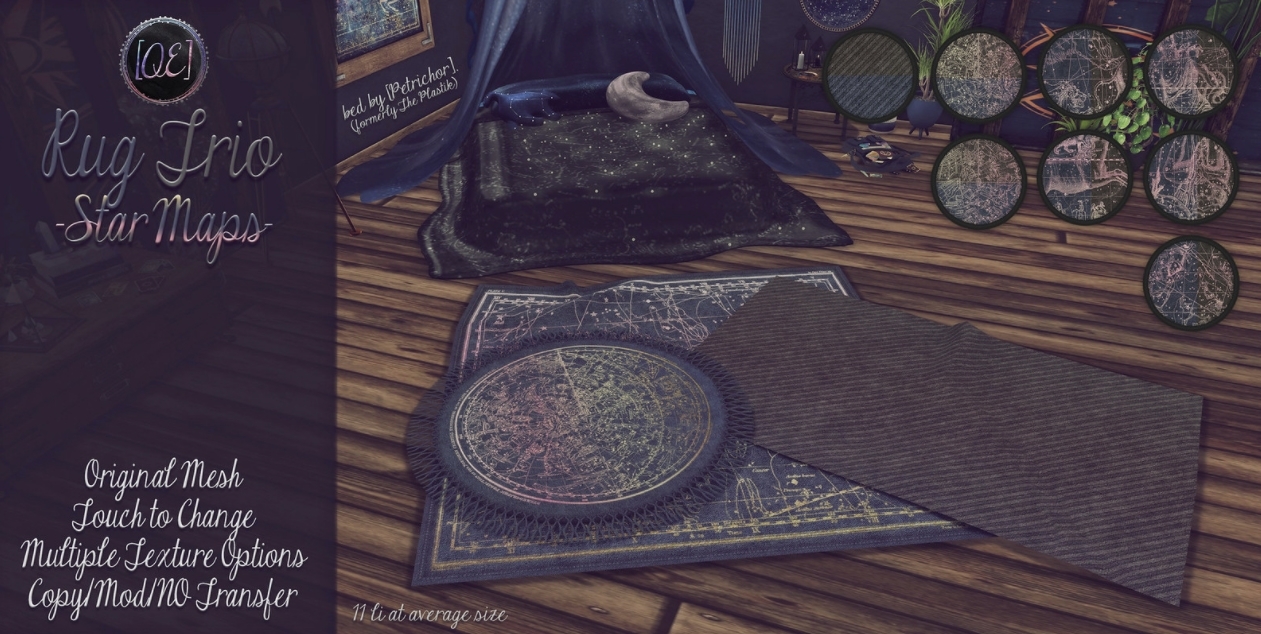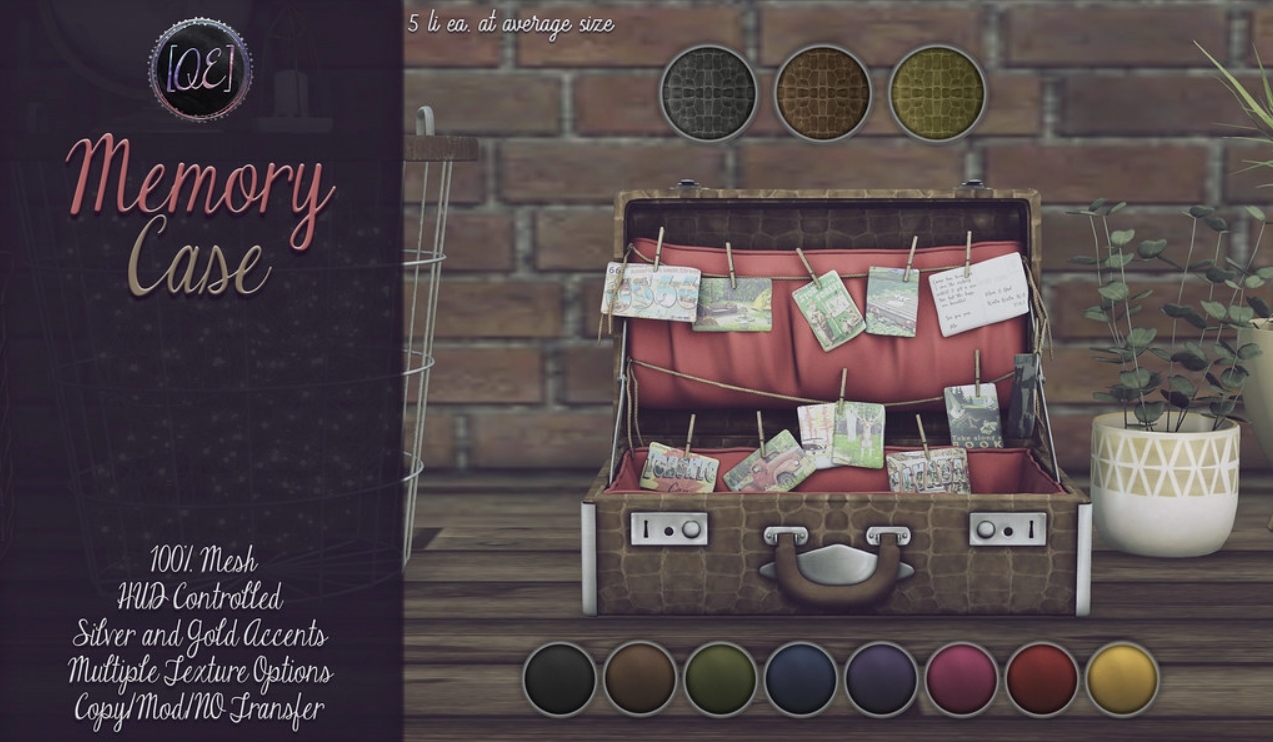 Now the second thing we are going to be talking about is the bedroom itself. The [Krescendo] Bewitched Bedroom Set. This fancy full bedroom is the creations of the sweet little beans over at [Krescendo] who created this as a gacha for The Epiphany event; as we know with the LL ruling of the gacha system becoming illegal coming August 31st (weee), Krescendo is still having this available at The Epiphany with a Fatpack purchase option until August 12th, [Krescendo] has not made a public announcement on what they plan to do with it after the event.

The Bedroom set includes: Bed [rares]in a PG and Adult version (separate), Crystal Lights (3 styles), Laptop, a vanity table, a side table, some tarot cards, a lamp, the stool, the crescent moon mirror, a tapestry, the rug and some cute sun catchers (3 styles). If you acquire the fatpack (at 4500L) you get all of this No mod/ Copy/No trans. Play the Gacha for 50L and you get it No mod/No Copy/Trans.
All in all, I liked putting all of these together and having fun over at Palmwood where I placed this for my apartment. The versatility and how complete it is plus how easy it was to mix and match brands on this particular bedroom set.
Decor
[QE Home] Rug Trio -Star Maps
[QE Home] Memory Case - Summer Camp
[Krescendo] Bewitched Bedroom Set @ The Epiphany until Aug.12
BackBone - Hammock Chair
floorplan - Suitcase Stack
[Fetch] Phases Corkboard
.:Abedul:. Polaroid Wall & String Lights / Black
Blinds were given to me by a creator, full perm But the coloring was made by me completely.
Apartment is located @ Palmwood City in SL.